Exclusive: Andrea Bonacorsi Interview
Share This Story !
4 rounds into the 2023 European EMX250 Championship we have seen Italy's Andrea Bonacorsi lead right from the start. From the first gate drop of the year, the young Yamaha rider has been the one to beat. The former EMX125 champ had a tough couple years after moving up to the Hutten Metaal Yamaha EMX team, but this year, things have finally aligned and now we see the youngster living up to his potential. Bonacorsi has earned himself 5 race victories and 2 overall wins so far on the year. We had a chance to sit down and have a quick chat with the red plate holder to see how things are going. Lets get to know the Italian and see what some of his future plans are.
Hi Andrea, first, lets start with getting to know you a little bit for the people that don't follow the EMX series as closely as some. So tell us a little about yourself.
Hi everybody! I am Andrea Bonacorsi, I am 20 years old. I am from Italy and am a professional motocross racer racing in the European EMX250 Championship. I race for the Hutten Metaal Yamaha Team.
Your season has started off well, you have earned a couple overall wins and 5 race wins. How do you feel about your season so far?
Yes, my 2023 season so far has started off how I wanted it to! At the moment, I am feeling really good with everything and everyone around me. This is really important for me, so I am really looking forward to the next races!
You have been racing for the Hutten Metaal Yamaha Team for the past few years now since moving up to the 250. How are you enjoying working with the team?
Yes, now it is my 3rd season with the Hutten Metaal Team and the feeling is awesome. They are really an amazing team and they deserve a lot. We had quite some up and downs in the past few racing seasons, but they have always believed in me. We have always kept working hard and now the pieces of the puzzle are coming together.
The Hutten Metaal Yamaha Team is based out of The Netherlands, and you are Italian. Do you still live Italy, or have you made the move to The Netherlands during the season?
Yes, the team is from The Netherlands. I decided from the first season with them to move to The Netherlands to be closer to the team.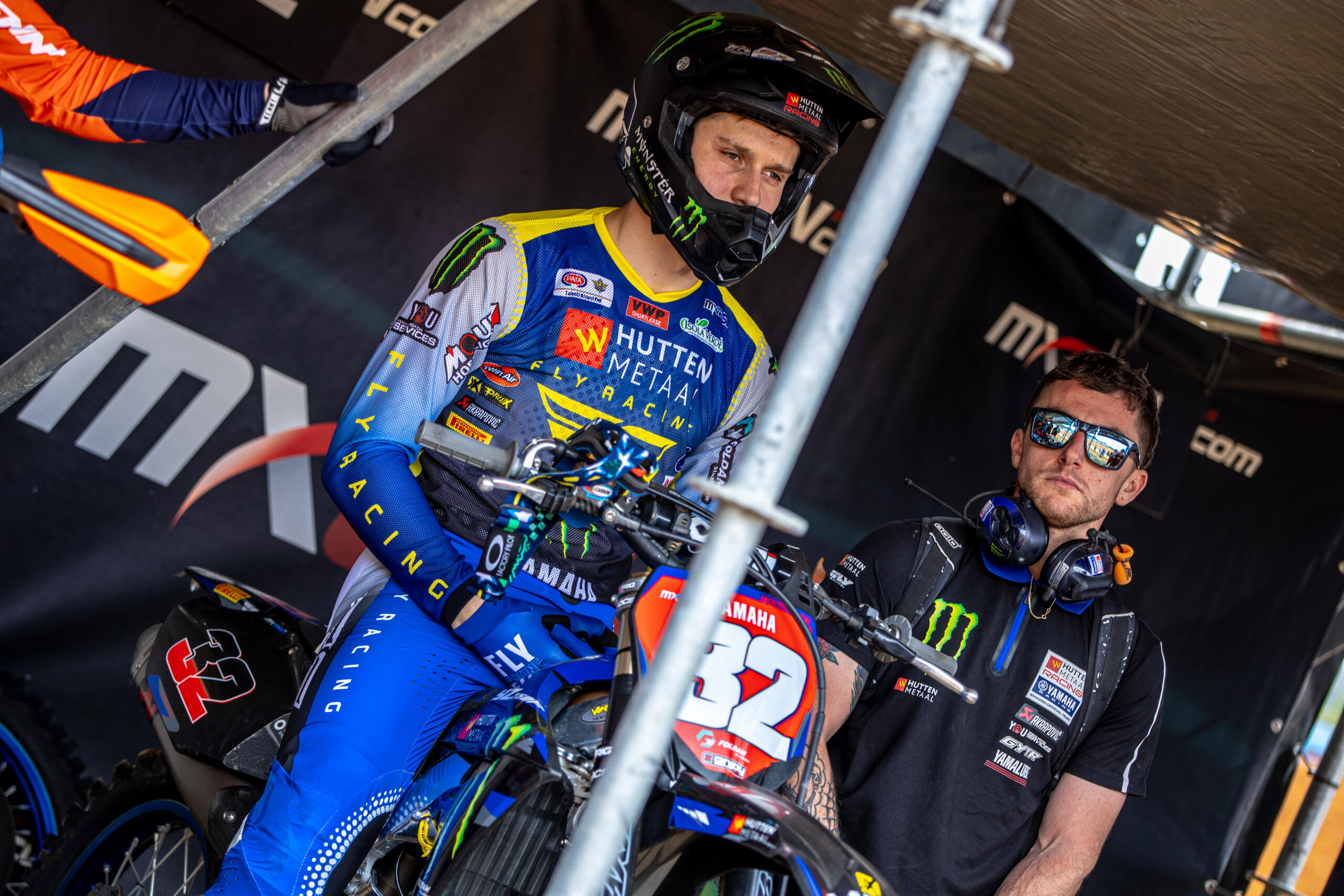 (Bonacorsi preparing for the Portugal EMX round)
What would a normal training week look like for you during the season?
My normal training week is riding the bike normally 3-4 times a week. The other days I train 2 times a day. Normally a morning gym session and in the afternoon a cardio one. Mostly for me it is cycling and running.
After this season, what are your plans for 2024? Do you plan to race the EMX series again? Or do you plan to move up to the MX2 championship?
The goal for me is for sure to go racing in the world championship. But first I want to fully focus on this season and when that time comes, we will see!
Do you plan to stay in Europe and do the world championships for you entire career? Or do you have the goal of sometime traveling to the USA to race?
Right now I am setting everything up to stay in Europe, mainly because I haven't had any chance to come race in the USA yet. But, that's definitely one of my dreams is to go racing in the USA.
The last tough career question, where do you see yourself in 5 years from now?
That's a good question, because for me personally, I never look so far in the future. But I definitely would like to see myself at my best.
Alright, here are some fun questions for you to finish on. You are Italian, so, Pasta or Pizza?
I have to think about this one haha! But I will go with pizza!
You are playing a good game of Super Mario, who are you picking, Mario or Luigi?
I would always pick Luigi!
Thank you for your time, Andrea. Looking forward to seeing how this season plays out. Do you have anything else you want to add?
I just want to thank everyone who is helping, believing and supporting me! I am really grateful. Thanks everyone and see ya around the paddock!
Like this article? Remember to follow us on all the socials and website for continued updates on all the racing around the world. As always, if you want to chat, or have any suggested features, feel free to send me an email at robby.renner@cult-moto.com!