Gabriel SS24 KTM – 2023 Line-up Announced!
Share This Story !
Gabriel SS24 KTM
Gabriel SS24 KTM are proud to announce their their team line-up and plans for the 2023 season, with the team looking to take a step forward and having their sights set on achieving bigger goals in '23. Shaun Simpson will take a further role within the team in 2023, as he extends his role to become Team Coordinator as well was competing in the Arenacross UK, and British Championships. Following up from a successful spell in the UK in 2022, South African Tristan Purdon will join the team on a permanent basis for 2023. Tristan will compete in the British Championships, and in select rounds of the MXGP series. Alongside Purdon, Taylor Hammal joins the team under the awning in the MX2 class, who will also be competing in the British Championships and select MXGP rounds. After a year out with injury, Taylor is looking to get back into the swing of racing, and we can't wait to see his progression.
A big step for team Gabriel SS24 KTM as they step into the 2023 MXGP series with Purdon and Hammal, gaining the experience of racing on the World stage. Shaun Simpson has been involved in the sport for many years now, and will look to bring his expertise to assist them as they embark on their MXGP journey.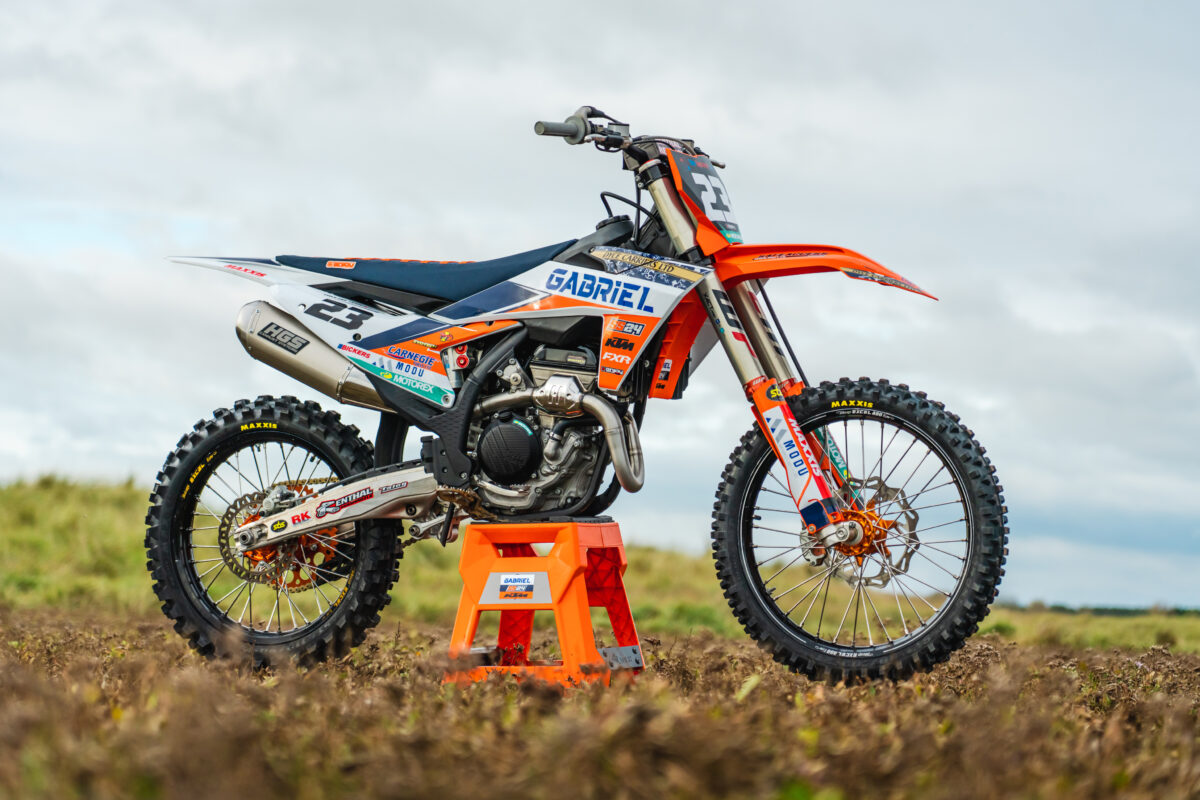 Simon Gabriel (Team Owner): "We are really looking forward to the 2023 season with our three rider lineup as an officially supported KTM UK team. I'm pleased to have Shaun continue with the team in an extended role as we are embark upon our first foray into the MXGP series with Tristan and Taylor. Tristan has already shown some good speed and determination in the races he attended this season and we are sure that we can assist Taylor back to the top as he makes a comeback to racing after a full season away with injury."

Shaun Simpson: "2023 looks like it's going to be a fun one! I can't thank KTM enough for sticking with me on this new venture to join forces with Simon Gabriel for next season. I'll be racing British Arenacross & Motocross Championships as well as managing the team on a day to day basis. I'm looking forward to getting stuck in with my racing but equally looking forward to be working with Tristan and Taylor as we tackle some European MXGP races, which will be a big step forward for the team. A final thanks to my personal sponsors for their continued support."

Tristan Purdon: "I'm feeling super excited to be begin racing full time in the UK. It's a fresh and much bigger field of competition, that I've not been able to experience back home. I can't thank everyone enough for all the effort they've put into making this all happen, and to the team for believing in me and all their assistance so far. Looking forward to a good '23 season and hoping to build on what we've achieved already."

Taylor Hammal: "I'm really happy to be with the Gabriel SS24 KTM team. After being out for a year and a half, I'm really excited to get going and can't wait for the races to start. I've been riding just over a month now and and really liking the KTM. Can't thank Simon enough for giving me the opportunity, taking me on, and to be back doing GP's again as I feel like I've got some redemption after my injury."
A special thank you to all those who supported us throughout the 2022 season, and going into 2023. We are excited to be bringing a new lease of life into the team, pushing ourselves further to achieve bigger goals going into next year. We hope to see you at the track very soon.
Instagram: https://www.instagram.com/gabriel_ss24_ktm/
Facebook: https://www.facebook.com/gabrielss24ktm