HOW TO WATCH 2023 SUPERMOTOCROSS SX & MX (USA & UK)
Share This Story !
SuperMotocross World Championship 31 Race Schedule to Stream Domestically on Peacock and Internationally via the SuperMotocross Video Pass
2023 Race Day Live Broadcast Team Announced
 PALMETTO, Fla. (December 22, 2022) – It was an exciting summer that saw the formation of the SuperMotocross World Championship series, a multi-year partnership extension with NBC Sports, and a new international streaming partner in Endeavor Streaming. Now, the SuperMotocross League is excited to offer consistent streaming options for all 31 races of the 2023 SuperMotocross World Championship series.
Domestically, Peacock will be the exclusive streaming home for all SuperMotocross World Championship action, including 17 rounds of Monster Energy AMA Supercross, 11 rounds of Pro Motocross, sanctioned by AMA Pro Racing, two SuperMotocross playoff races and then the SuperMotocross World Championship Final.23 races will live stream exclusively on Peacock, including one SuperMotocross World Championship Playoff event. The platform will also provide on-demand replays of every race.
Internationally, the SuperMotocross Video Pass (Supermotocross.tv) will be available in every country outside of the United States, live and on-demand, making the SuperMotocross World Championship series, one of the most accessible live-viewing motorsports series across the globe.
As previously announced, Race Day Live will expand in 2023 to cover all 31 races of the SuperMotocross World Championship series. Dan Hubbard and Daniel Blair will serve as hosts of the pre-race program, which will feature 2.5 hours of coverage for each Supercross event, one hour for each Pro Motocross event, and 2.5 hours for both SuperMotocross Playoff events and the SuperMotocross World Championship Final.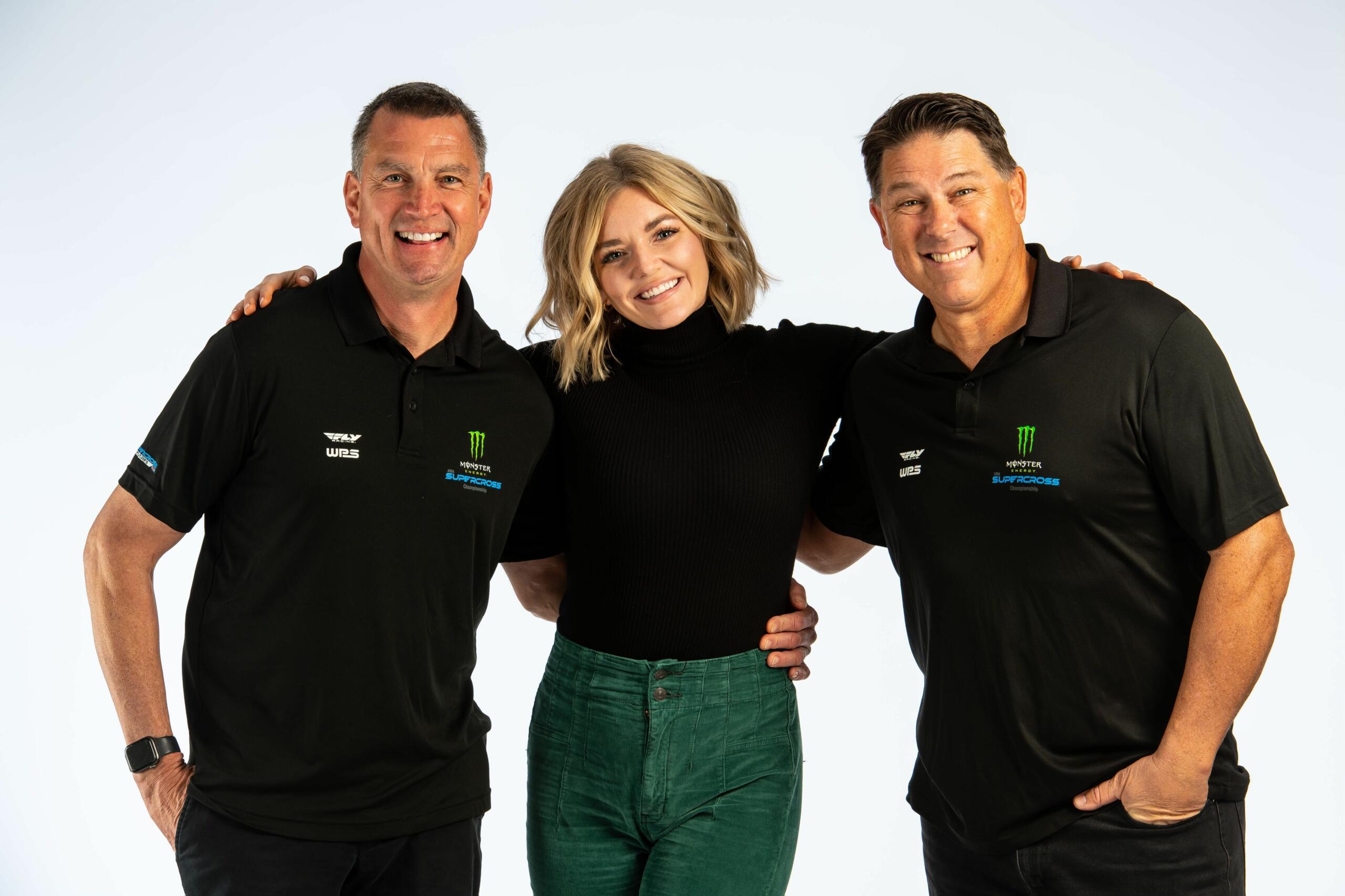 New in 2023, Race Day Live will feature an all-star cast of broadcast and racing professionals as Steven Scott (Lurch), Haley Shanley, Katie Osborne and Justin Brayton all join the fold for various rounds throughout the 31-race season.
SuperMotocross Video Pass subscribers can enjoy all the live 2023 racing action between January and October 2023, plus gain access to 12 years of archival race content dating back to 2010. The SuperMotocross Video Pass is currently available outside the Unites States via the web, and will be rolling out apps on IOS, Android, Amazon Fire, Roku, and Samsung CTV in the coming weeks.

The SuperMotocross Video Pass service includes:
Live and on-demand access to stream the entire 17 round schedule of the Monster Energy AMA Supercross Championship, all 11 AMA Pro Motocross Championship events, plus the SuperMotocross World Championship Playoffs and Final
31 rounds of the fan favorite 'Race Day Live' pre-show, giving fans insider access to everything happening from every 2023 race location
250 and 450 class race highlights from all 31 rounds
Archived races from both Supercross & Pro Motocross including an extensive 12-year archive of previous Supercross seasons dating back to 2010
A full season subscription is $159.99 USD for unlimited access to all the content within the platform through Nov. 30th, 2023, and for a limited time, fans can take advantage of an early bird promotion when they use code SMX23EARLY upon sign up, receiving $30 USD off the full season price.  Promotion period ends Dec. 25 at Midnight PT.
Peacock offers off-road motorcycle racing to fans within the U.S. year-round with all 31 SuperMotocross World Championship events, Race Day Live programming, and on-demand replays. Peacock Premium is available for $4.99 per month. To learn more about Peacock, including how to sign up, click here.
The SuperMotocross World Championship is part of Peacock's expansive programming featuring live sports coverage that includes Sunday Night Football, Premier League, MLB Sunday Leadoff, NASCAR, INDYCAR, Notre Dame Football, golf, Olympic sports, horse racing, and much more. Peacock also offers daily sports programming on the NBC Sports channel which streams Peacock Original Brother from Another and staples like The Dan Patrick Show and Pro Football Talk Live. Click here to learn more and to sign up.
For more information about the 2023 SuperMotocross World Championship series, tickets, and streaming options, visit
Peacock
and
supermotocross.com.